SKIN SERVICE

VI Peel contains a synergistic blend of powerful ingredients suitable for all skin types. This peel will help to improve the tone, texture, and clarity of your skin and provide anti-aging benefits.
Tightens skin, smooths texture, and brightens tone. Specifically formulated to rejuvenate and help prevent future damage to the skin. A great first-time peel for all age groups who want fresh, healthy, radiant skin.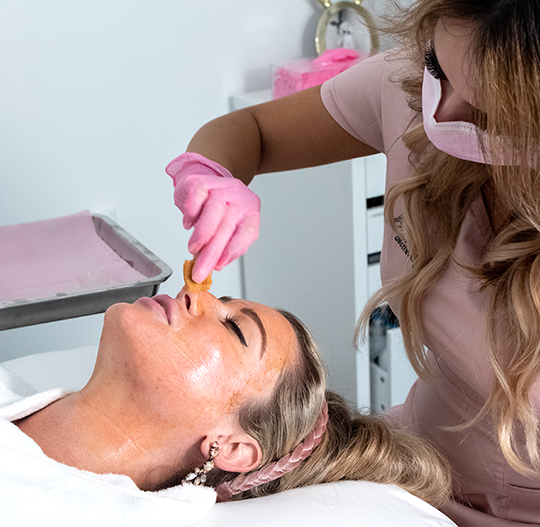 FOR SKIN CONCERNS
Sensitive Skin
Early Signs of Aging Ages 20+)
Rough Texture
Keratosis Pilaris
PRODUCT BENEFITS
Restores a more even skin tone
Smooths away rough skin
Reduces the appearance of fine lines and wrinkles
Reduces the appearance of Keratosis Pilaris
PRODUCT FEATURES
Safe for all skin types
Medium-depth peel
Results within 7 days
Safe to use for all
Fitzpatrick types I-VI
What is the VI peel?
The VI Peel is a formula consisting of a blend of powerful ingredients that helps improve skin tone, texture and clarity. It softens fine lines and wrinkles, and restores a more even skin tone by reducing age spots and sun damage. This peel is sub-dermal which means it peels more than just the top layer giving the client "baby skin". It "peels" away surface damage and lightens underneath damage. In addition, it contains ingredients that address most of my clients concerns. It improves texture by smoothing away rough skin to reveal a more youthful, glowing complexion.