Product Overview
Modere Trim goes beyond weight management with a unique
combination of advanced technologies to promote a sculpted, leanbody.* Trim was awarded the 2018 Editor's Choice for best weight management supplement by SupplySide West. This delicious version of Trim lets you indulge in a decadent chocolate flavor made with real cocoa powder and zero sugar.
Product Details
Inhibits cellular fat storage*

Supports a reduction in fat cells*

Promotes a healthy body composition*

Supports joint, muscle fitness and connective tissue health*

Supports healthy hair, nails, gums and eyes*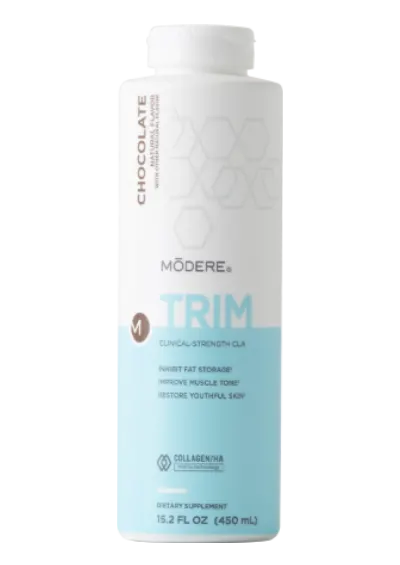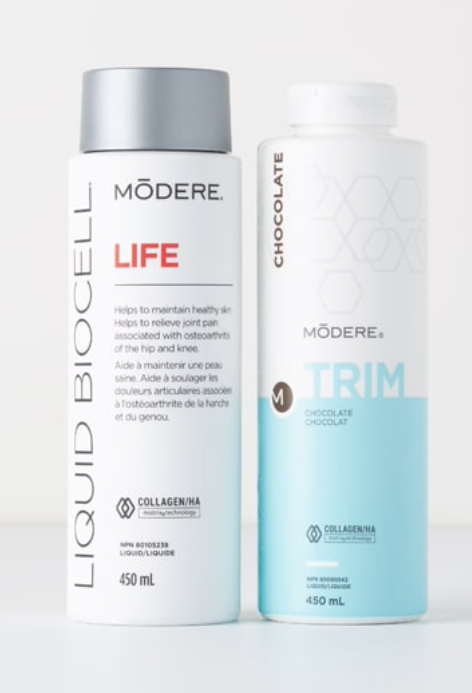 Product Details
Trim is the only product that features an innovative, first-in-the-world combination of two leading technologies for a body transformation experience: CLA to accelerate fat reduction and Collagen/HA Matrix® Technology to improve muscle tone and restore youthful skin.*
Plant-derived conjugated linoleic acid, or CLA, has been clinically shown to decrease body fat. Not only does CLA support fat metabolism, it actually helps block fat transport from the bloodstream into fat cells, inhibiting fat absorption, reducing fat cell size and reducing fat cell formation. The result is a more sculpted, lean body.*
Trim also includes multi-patented, award-winning Collagen/HA Matrix Technology to promote youthful skin and flexible joints. Weight loss
can cause skin to wrinkle and sag. This clinically tested technology replenishes collagen and HA, or hyaluronic acid, in a highly absorbable
form, restoring youthful skin. Collagen and HA are also critical to knees, elbows, wrists and the spine where they support flexible joints
and fitness performance.*
Together in Trim, scientifically studied CLA and Collagen/HA Matrix Technology work potently to deliver a full body transformation experience.*
Key Ingredients
Liquid BioCell®, backed by Collagen / HA Matrix® Technology
Directions/Usage
Take one tablespoon directly by mouth daily, preferably in the morning.
TESTIMONIALS
Eleven days into drinking my liquid collagen and I am blown away!!! I have always had very bad under eyes (dark and puffy) but not anymore!! This liquid gold is life changing. My dry skin now feels soft and moisturized and is literally glowing! I'm never coming off this stuff!
I took powdered collagen for over a year and thought I was doing myself a favor even though I didn't see or feel any different. Then my friend introduced me to Liquid Biocell, within weeks I started to see and feel a difference. In three months, I compared pictures and I could actually see that I was aging backwards. THIS STUFF WORKS!!!!
After two months on Liquid Biocell and Trim and I was SHOCKED! I took photos in the same outfit and while the clothes are the same, my body is totally different – I had dropped a full jean size. And, after consistently taking this duo for 8 months I am down 3 jean sizes and the leanest I have been in years. I've lost 25 inches from my body measurements! While the number hasn't moved on the scale an earth-shattering amount, the way my body looks doesn't lie!
Five months on Trim. I am down TWO jean sizes and love the way I am feeling in my clothes again! I try and limit sugary foods and drinks, drink a lot of water, and most of my activity comes from chasing two kids under four years old! I love Trim!